Spider-Man Remastered Almost Hits 60 FPS Gameplay Experience On AMD Ryzen 7 5700G APU
Playing Spider-Man Remastered on PC is the best experience to feel the nostalgic swing on highest frame rate possible. However, some people would like to try it on the fastest AMD APU to test the integrated graphics capabilities till it's edge.
Well established hardware testing reviewer RandomGamingInHD has shown incredible gameplay just using Ryzen 7 5700G APU from Cezanne family which includes Radeon Vega graphics powered by 8 CUs.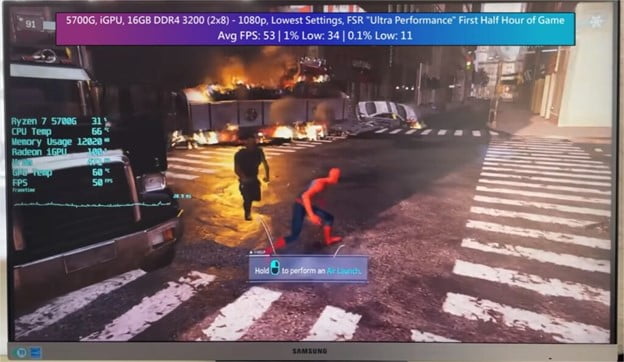 Spider-Man Remastered on Ryzen 7 5700G can easily be enjoyed even on lowest settings at 1080p resolution enhanced by AMD's proprietary FSR "Ultra Performance" frame rate booster. Make sure 16GB memory modules are running on dual channel mode at 3200MHz. Perhaps, Samsung B-die chip provide stable frame rate performance towards AMD processors.
So the average FPS reaches up to 53 during intense fight scenes while 1% low remarkably held at 34 and 0.1% low was 11. Happy to see Sony Playstation's exclusives are successfully made (imported) into PC gaming since Linux distro x86 instruction set from PS4 operating system is conveniently be transferred into Windows OS programs after some effective developer's optimizations.